My name is Fares, and I somehow became a recognised health tech entrepreneur.
About two years ago, I had to undergo surgery and was prescribed lots of different medicines. Antibiotics, painkillers, you name it. It was a fairly painful experience keeping track of the medicines I was taking, and my parents were always worried about me because they live abroad. And that's where my journey started.
In the summer of 2016, I applied to Kings20, the King's College London Accelerator with my venture The Medic App. The app was a medication reminder designed for carers to help them schedule track medication reminders for their loved ones. This solved the two problems I knew I had: my parents wouldn't be worried about me because they could see me taking my medicines, and I would not forget to take my medicines again.
I was accepted, and during the year in which I was part of the program, my venture raised over £30,000 of equity-free funding. This kept fuelling my belief that I had a great idea.
Solution Mode
Lots of money and a year later, I had a beta app with a few dozen testers. We were ecstatic and saw that as a massive success. We were also just accepted at the NatWest Entrepreneurial Spark (E-Spark) accelerator program to start in August 2017.
When I joined, they asked me these questions:
Can you describe your customer persona?

Can you tell me how many people are using your app that are not actually friends or family?

How many random strangers have you shown the app to?

What is your value proposition?

How much money/time/effort are you actually saving your users?

Would people actually even pay for this?

Have you asked random people if they would pay for this?
The answers were a mixture of probably not, almost none, and I don't know. That's when one of accelerator managers at E-Spark took me aside told me: "Switch-off solution mode, and go talk to people". That was a turning point in my entrepreneurial journey.
When people asked me why I was building Medic App, I always said that it was because the care sector was lacking technology. We were innovating in pizza delivery faster than we were innovating in health and care. Focusing on the problem means if one solution isn't good enough, another solution could be. That mindset was really difficult to achieve for me.
Not only that, I knew I was solving a problem. I could prove it because I was solving that problem for myself! The question I should have been asking is: was I solving that problem for others as well? Did they even recognise it as a problem?
Problem Mode
When I was demoing the app to friends and family, I found out that one of my colleagues works as a part time carer. She told me she wished she could use my app for her work, as she has to fill in paperwork when she gives people their medicine. That got me curious and I wondered, is that a problem I can focus on solving?
Now, the old me would have just dived in and started building something, the way I did with The Medic App. Instead, I wrote a list of twenty assumptions on a whiteboard (for example, we assumed that care managers are tech savvy). We needed to validate these assumptions, so I tracked down the emails of over a thousand people in the home care industry, and emailed them all offering a coffee for half an hour of their time (hoping that not all of them reply, I was still a student after all).
You'd be surprised how many people were willing to help. Here's what I learned from them: 380,000 people in the UK receive care at home. As part of their care, a lot of paperwork gets filled out by care staff. There's a form for everything: medicine, food, even repositioning someone in their bed. The majority of these companies don't check paperwork for 9 to 12 weeks. This creates mountains of paperwork with no oversight, meaning mistakes aren't discovered for weeks unless the care receiver suffers as a result of that.
At this point, I've spoken to a few dozen care managers, a few dozen carers and have validated all of my assumptions. But still, we didn't go ahead and build. We already had an idea for a solution, but first we first designed mockups and went to show it to potential companies and offering them a free trial. All of the ones who saw the demo said yes.
Today, we're building a digital platform to transform the paperwork into a to-do list which carers can tick off on their smartphones. Our solution gives care managers a direct and immediate view of what goes on in their clients homes, and alerts them of any serious issues or missed visits immediately.
Key Learnings
A lot of us entrepreneurs start off being in love with our solutions so much, we forget that these solutions aren't meant for us. They're meant to help and change the lives of other people, and they need to have a say in it too if they're the ones you expect to be using your app, or product, or service. Your favourite products, shops and restaurants probably email you every once in a while asking you how they're doing. It's no different at all to you going to ask your potential customers: am I going about this the way I should?
And if you keep listening, you'll probably end up doing just fine.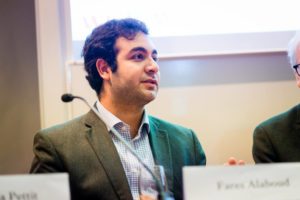 Fares Alaboud is a passionate and dedicated social entrepreneur and a skilled software engineer, with several accolades celebrating a still young career. Currently pursuing a PhD in Artificial Intelligence, Fares has gained a broad understanding of the social care sector, and used this to found his startup, Medic.