by Stephen Bourke.
My wife and I recently had a baby daughter and, from a care perspective, the experience was outstanding. From our first nervous appointment, to the paramedics who rushed us to the delivery room, I've rarely seen passion or professionalism like it.
I've also rarely seen quite as much paperwork. Here is about 10% of what we have received so far: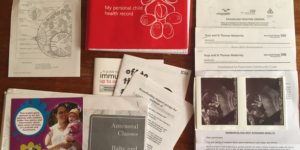 It's 2017 and our daughter's arrival has been tracked and documented through the medium of pen and paper. At one point I swear I saw our midwife use a rubber. We're inundated by talk of how robots will replace doctors, blockchain will transform health records and how we are on the verge of a technological revolution in healthcare. And it's certainly an exciting time to work in our sector, but it feels a little premature to discuss artificial intelligence when the NHS remains world's largest purchaser of fax machines.
Tackling the dull, hard problems
Our experience will come as no surprise to anyone working in healthcare, where the second-class stamp is still a critical communication tool.
It's also not meant as a dig. The NHS is hugely complex and shifting this stuff online is hard. No one wants to user a pager, or cart around large folders of hand-written notes. We do so because they are the often the only tools at hand and we need to get on with caring for patients.
The problem lies with the fact that fixing the basics is not only a colossal task but, let's be honest, often relatively dull and complex. Compared with nanomedicine, CRISPR and brain implants, optimising nurse shift patterns or digitising appointment booking can seem a little lacklustre. But it's practical, front-line innovation like electronic appointment booking that delivers real, cashable benefits to the NHS today, and it merits at least as much attention as the sexy stuff.
Tech-start ups to the rescue
The good news is that several tech start-ups are quietly working on these challenges.
When it comes to childbirth, eRedbook has digitised the entire pathway. From test results and observations to appointment booking and immunisations, it's an elegant solution that eliminates paper, improves communication and empowers parents.
When it comes to secondary care access, drDoctor is blazing a trail. Their platform enables patients to book hospital appointments, access consultant letters, and complete pre-screening questionnaires. A simple patient portal improves access and communication, reducing non-attendance and paperwork for everyone involved. Currently live in five hospitals, drDoctor claims to save £1.2m per Trust. Extrapolate these savings across all Trusts, and we've got an extra £240m+ to invest in innovation.
The team behind GDm-Health go one step further, removing the need for (some) face-to-face appointments altogether. Gestational diabetes is a serious condition and needs close monitoring. Typically, this involves bi-weekly visits to the hospital for blood glucose tests and dose adjustments. With GDm-Health, patients can monitor their levels at home and relay information back to clinicians who then make dynamic adjustments based on longitudinal data. Critically, it's not the consumer technology but the interoperability that is important here—their experienced team know how to adapt to existing care pathways and systems, which means the benefits are quickly realised.
Data is useless unless it can be easily interpreted. Converging Data takes standard health-level 7 (HL7) data—the international standard for exchange, integration, sharing, and retrieval of electronic health information—and converts it into meaningful, visual dashboards that can be used to monitor patient flow, identify bottlenecks, and figure out what is actually happening within a hospital. This enables the smarter allocation of staff and essential resources, improving efficiency.
Efficient healthcare is built on a foundation of clear, concise, and quick communication. Consumer smartphone instant-messaging apps are ubiquitous, but data security, consent and compliance issues cause headaches for information governance officers. Enter medCrowd: a fully-compliant platform that enables real-time communication whilst keeping confidential data secure. Instant messaging is often far more far more efficient than email, and creates a stronger, more immediate connection between patient and clinicians.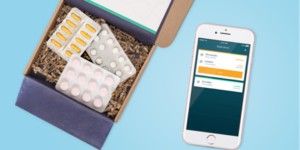 40% of medication isn't taken as directed and, despite significant progress in rolling out electronic prescriptions, medication management is still painful from a patient's perspective. This is what my co-founder and I set-out to fix with Echo. We both take medication for chronic conditions and feel that the bi-monthly rigmarole of ordering prescriptions is needlessly complicated. Through Echo, patients simply tell us who their GP is and what repeat medication they need. We sort out the prescription and deliver medication for free. Smart reminders tell patients when to take their meds and when they are about to run out, promoting medication adherence. Working with 90% of NHS England GPs means that we are on the coal-face of interoperability, but mercifully get support and guidance from NHS Digital.
These six firms represent just a small sample of start-ups tackling immediate system problems with practical solutions. Unless our industry tackles the dull, hard problems—consent, procurement, interoperability, digitalisation, information governance and culture—bleeding edge technology will be stuck in permanent pilot mode. The complexity of these challenges can be intimidating, but we need to prioritise fixing them in order to pave the way for the future.
Stephen Bourke, CXO and cofounder of Echo – Stephen successfully launched the pioneering digital health business LloydsPharmacy Online Doctor in Ireland and Australia. 
Prior to that he worked as a Head of Strategy for BT. He holds a masters in marketing from the Vlerick Business School and a bachelor's degree in economics and philosophy from University College Dublin.
(Visited 319 times, 1 visits today)