by Stephen Bourke.
My wife and I recently had a baby daughter and, from a care perspective, the experience was outstanding. From our first nervous appointment, to the paramedics who rushed us to the delivery room, I've rarely seen passion or professionalism like it.
I've also rarely seen quite as much paperwork. Here is about 10% of what we have received so far: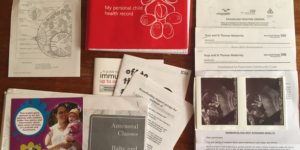 It's 2017 and our daughter's arrival has been tracked and documented through the medium of pen and paper. At one point I swear I saw our midwife use a rubber. We're inundated by talk of how robots will replace doctors, blockchain will transform health records and how we are on the verge of a technological revolution in healthcare. And it's certainly an exciting time to work in our sector, but it feels a little premature to discuss artificial intelligence when the NHS remains world's largest purchaser of fax machines.
Continue reading Never mind the Blockchain, we need to fix the basics →