16 Feb, 13 | by Dr Dean Jenkins
Researchers from Barcelona have just published a paper detailing their more than 4-year experience of treating Type 1 Diabetes with a single intramuscular injection. The technique transfers the glucokinase (GCK) and insulin (INS) genes to the host using a viral vector.
"We previously demonstrated that it is possible to generate a "glucose sensor" in skeletal muscle through co-expression of glucokinase (Gck) and insulin (Ins), increasing glucose uptake and correcting hyperglycemia in diabetic mice. Here, we demonstrate long-term efficacy of this approach in a large animal model of diabetes. A one-time intramuscular administration of adeno- associated viral vectors of serotype 1 (AAV1) encoding for Gck and Ins in diabetic dogs resulted in normalization of fasting glycemia, accelerated disposal of glucose after oral challenge, and no episodes of hypoglycemia during exercise for >4 years after gene transfer. This was associated with recovery of body weight, reduced glycosylated plasma proteins levels, and long-term  survival without secondary complications." [1]
In this study the dogs did not have autoimmune Type 1 Diabetes. Instead they had been given drugs toxic to their pancreatic beta-cells to induce diabetes. The gene transfer creates a 'glucose sensor' in skeletal muscle.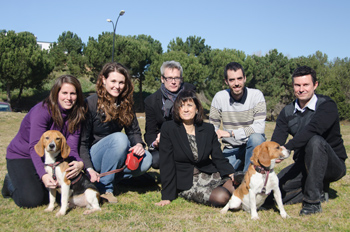 "The therapy is minimally invasive. It consists of a single session of various injections in the animal's rear legs using simple needles that are commonly used in cosmetic treatments. These injections introduce gene therapy vectors, with a dual objective: to express the insulin gene, on the one hand, and that of glucokinase, on the other. Glucokinase is an enzyme that regulates the uptake of glucose from the blood. When both genes act simultaneously they function as a "glucose sensor", which automatically regulates the uptake of glucose from the blood, thus reducing diabetic hyperglycemia (the excess of blood sugar associated with the disease)."  UAB press release Feb 2013.
The researchers now propose an experiment on pet dogs with Type 1 Diabetes.
They also point out the historical similarities with the discovery of insulin in 1922 by Banting and Best and the recent success of viral vector technologies in humans (in haemophillia B [2] and Leber's Congenital Amaurosis [3]) all of which followed work on dogs.
1. Callejas D, Mann CJ, Ayuso E, Lage R, Grifoll I, Roca C, Andaluz A, Gopegui RR, Montane J, Muńoz S, Ferre T, Haurigot V, Zhou S, Ruberte J, Mingozzi F, High K, Garcia F, Bosch F. Treatment of Diabetes and Long-term Survival Following Insulin and Glucokinase Gene Therapy. Diabetes 2013 Feb; Available from: http://diabetes.diabetesjournals.org/content/early/2013/01/30/db12-1113
2. Nathwani AC, Tuddenham EGD, Rangarajan S, Rosales C, McIntosh J, Linch DC, Chowdary P, Riddell A, Pie AJ, Harrington C, O'Beirne J, Smith K, Pasi J, Glader B, Rustagi P, Ng CYC, Kay MA, Zhou J, Spence Y, Morton CL, Allay J, Coleman J, Sleep S, Cunningham JM, Srivastava D, Basner-Tschakarjan E, Mingozzi F, High KA, Gray JT, Reiss UM, Nienhuis AW, Davidoff AM. Adenovirus-Associated Virus Vector–Mediated Gene Transfer in Hemophilia B. New England Journal of Medicine 2011;365(25):2357–2365. Available from: http://www.nejm.org/doi/full/10.1056/NEJMoa1108046
3. Maguire AM, Simonelli F, Pierce EA, Pugh EN, Mingozzi F, Bennicelli J, Banfi S, Marshall KA, Testa F, Surace EM, Rossi S, Lyubarsky A, Arruda VR, Konkle B, Stone E, Sun J, Jacobs J, Dell'Osso L, Hertle R, Ma J, Redmond TM, Zhu X, Hauck B, Zelenaia O, Shindler KS, Maguire MG, Wright JF, Volpe NJ, McDonnell JW, Auricchio A, High KA, Bennett J. Safety and Efficacy of Gene Transfer for Leber's Congenital Amaurosis. New England Journal of Medicine 2008;358(21):2240–2248. Available from: http://www.nejm.org/doi/full/10.1056/NEJMoa0802315