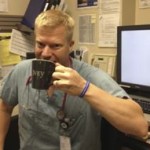 By Ken Milne
An eleven year-old girl falls while playing football. She presents to A&E with a painful wrist, and you suspect a fracture. Prior to her going for x-rays you wonder what you can give for pain management.
This is a common dilemma which highlights why paediatric patients are at greater risk of oligoanalgesia – the lack of, or inadequate, pain control. For example despite earlier RCT evidence finding ibuprofen alone may not be effective pain relief for children with musculoskeletal injuries, a recent retrospective study found it still to be the analgesic most commonly given, albeit this was set in a single emergency department.
However, there are many options available to treat paediatric pain both pharmacologically and non-pharmacologically. Sucrose, possibly combined with warmth, has been shown to be effective at reducing pain in newborn infants undergoing single painful events such as heel stick or vaccination. And music has been shown to have some benefit in children aged 3-11 undergoing intravenous catheter placement.
When considering 'stronger' pharmacological treatments, intranasal fentanyl (INF) is one which is of particular interest as the route of administration is likely to cause minimal distress. But can INF be used in paediatric patients to safely help control pain? more…