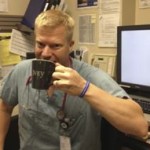 By Ken Milne
Case: A 62-year-old woman presents to the emergency department with a history of atrial fibrillation and gastroesophageal reflux. She is on metoprolol 25mg twice daily, dabigatran 150mg twice daily, and omeprazole 20mg once daily. She noted some mild epigastric pain over the last week and had a coffee ground emesis that morning. She arrives via EMS with a blood pressure of 110/60, heart rate of 64bmp and O2 saturation of 97% on room air. You wonder if there is a specific agent that can safely and effectively reverse dabigatran?
Dabigatran is a non-vitamin K antagonist anticoagulant that works by inhibiting thrombin. It is an approved treatment of non-valvular atrial fibrillation to prevent stroke. It is also approved for the prevention and treatment of venous thromboembolism.
Patients can develop life-threatening bleeds while taking dabigatran. While there are a number of options available to reverse warfarin, there has been no reversal agent for dabigatran. This has now changed with the maker of dabigatran, Boehringer Ingelheim, who has developed idarucizumab, a monoclonal antibody fragment.
An interim analysis from 90 patients of a larger ongoing study (RE-VERSE AD)  was recently published in the NEJM. It looked at the safety of idarucizumab and its ability to reverse the anticoagulant effects of dabigatran in patients who had serious bleeding or required an urgent procedure/surgery.
There were 51 patients in the bleeding group and 39 in the urgent procedure/surgery group. Their primary outcome was the maximum percentage of reversal the anticoagulant effect of dabigatran assessed by dilute thrombin time and ecarin clotting time. They had secondary outcomes including reduction in the concentration of unbound dabigatran, restoration of hemostasis, death at 90 days and thrombotic events.
Their primary result showed the median maximum percentage reversal was 100% (95% CI 100 to 100). The concentration of unbound dabigatran dropped in all but one patient to a level that produces little or no anticoagulant effect. The median time to reach clinical hemostasis was 11.4hrs in the 35 patients that could be assessed in the bleeding group. For those undergoing procedures/surgery, normal operative hemostasis was reported in 33/36 (92%). There were eighteen deaths (nine in each group) and five thrombotic events up to 90 days with only one in the first 72 hours.
There were a number of limitations to this study with a major one being a lack of a control group, which the authors acknowledge. They say it would have been unethical to perform a placebo-controlled study in these patients. However, that assumes the intervention is actually more effective and safe without it being tested in the real-world setting. This lack of control group means we cannot know if treatment with idarucizumab would be better than current care.
Another problem was the primary outcome was disease oriented not patient oriented. Idarucizumab does rapidly normalize abnormal coagulation parameters associated with dabigatran use. Whether or not this translates into clinical efficacy remains to be demonstrated.
While the coagulation parameters normalized quickly, the secondary outcome of median time to reach clinical homeostasis was over 11hrs. The mean half-life of dabigatran is around 12-14hrs. This also calls into question the clinical efficacy of idarucizumab.
This interim analysis was too small to comment strongly on safety. There were 21 serious adverse events including 18 deaths. A larger study with a control group would help to detect any pattern of adverse events.
There are also concerns about conflicts of interest. The company that makes dabigatran also manufactures idarucizumab and funded the study. Boehringer Ingelheim was involved in the design and conduct of the study. Many of the authors reported relevant financial conflicts of interest. These conflicts do not invalidate the results but should make us more skeptical of the results.
These and other limitations make it too early to determine the safety and patient oriented efficacy of idarucizumab to reverse dabigatran.
Thank you to Ryan Radecki from EM Literature of Note for helping with this review.
Remember to be skeptical of anything you learn, even if you heard if from the Skeptics' Guide to Emergency Medicine.
Dr. Milne is the Chief of Staff at South Huron Hospital in Exeter, Ontario, Canada. He has been doing research for over 30 years publishing on a variety of topics. He is passionate about skepticism, medical education and evidence based medicine. He is the creator of the knowledge translation project, The Skeptics' Guide to Emergency Medicine. When not working he is trying hard to be an  endurance athlete. Dr. Milne is married to Barb and has three amazing children.
(Visited 77 times, 1 visits today)