16 Jul, 15 | by BMJ Clinical Evidence
By Ken Milne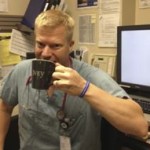 "It takes 50 years to get a wrong idea out of medicine, and 100 years a right one into medicine". (Dr. John Hughlings Jackson – British Neurologist)
Dr. Jackson's quote points out how long it can take for knowledge translation (KT) in medicine. More recent data suggests it can take an average of 17 years for 14% of medical information to reach the patient's bedside.
This is far too long in the age of social media. Don't panic! The goal of the Skeptics' Guide to Emergency Medicine (SGEM) is to shorten that KT window down from over ten years to less than one year.
The leaky pipe model by Pathman et al conceptualizes a water tank filled with high quality, clinically relevant evidence, and seven specific leaks in the pipe representing information loss. The SGEM addresses many of the leaks in the pipe.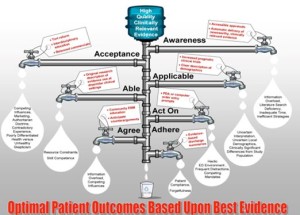 The top down/ didactic method of the 19th century with a lecture hall audience receiving eminence-based medicine is over. Knowledge translation has entered a new phase in the 21st century that uses social media to disseminate evidence-based medicine.

The SGEM was started in the fall of 2012. It uses the power of social media in the form of a podcast on iTunes, blog, active Twitter feed, YouTube channel and Facebook page to disseminate and engage providers from around the globe.

The SGEM is part of the Free Open Access to Medical Education (FOAMed) movement. It is "a globally accessible crowd-sourced educational adjunct providing inline (contextual) and offline (asynchronous) content to augment traditional educational principles. FOAM is medical education for anyone, anywhere, anytime."

The high quality evidence based information provided by the SGEM uses the Best Evidence in Emergency Medicine (BEEM) process. BEEM has the only validated audience-rating tool in emergency medicine and the only known measure of clinical relevance.

The SGEM strives to be the most valid, reliable, and unbiased global source of current, clinically relevant, patient-centered emergency medicine information. So rather than the trickle down KT method, the SGEM uses the bubble up technique. The SGEM delivers emergency medicine clinicians and students the best evidence so they can provide their patients with the best care.

The SGEM encourages the audience to have a healthy skepticism of the literature. It also teaches critical appraisal skills but in a fun and engaging way.

So stop practicing emergency medicine from over ten years ago and start practicing emergency medicine based on the best current evidence.

And remember to be skeptical of anything you learn, even if you heard it on the Skeptics' Guide to Emergency Medicine.

Dr. Milne is the Chief of Staff at South Huron Hospital in Exeter, Ontario, Canada. He has been doing research for over 30 years publishing on a variety of topics. He is passionate about skepticism, medical education and evidence based medicine. He is the creator of the knowledge translation project, The Skeptics' Guide to Emergency Medicine. When not working he is trying hard to be an endurance athlete. Dr. Milne is married to Barb and has three amazing children.

(Visited 25 times, 1 visits today)

You can follow any responses to this entry through the