By Caroline Blaine
BMJ Clinical Evidence is now 16 years old. Those in the UK and North America may remember the handbook – initially pocket size it grew over the years as new topics and new evidence were constantly added. Clinical Evidence is now very much an online resource offering a unique systematic overview of the current evidence base for common clinical conditions. This is combined with our tools to practise, learn and teach evidence-based medicine making it a go to place for clinicians, researchers and students.


As Editor of Clinical Evidence, for me there are two stand out areas of this resource. Firstly, as the title indicates, it is clinically focussed. Expert contributors from around the world put the evidence from primary studies and systematic reviews into a clinical context. The applicability of the evidence is therefore at the forefront of what we do. In doing this, we report the full spectrum of RCT and systematic review evidence available. Where there are conflicting results, we highlight these. Secondly, the interventions are categorised from beneficial through to likely to be ineffective or harmful (see table). This includes unknown effectiveness. If there isn't the RCT evidence to support the use of an intervention, we say so. In this way, and through our key points and overview sections, we summarise the high-quality available evidence thereby informing the evidence based clinical decisions you make everyday. For those of you who want to dig down further to the studies and detailed data, this is all presented for you – the joy of an online resource being you can easily navigate to the information that interests you most.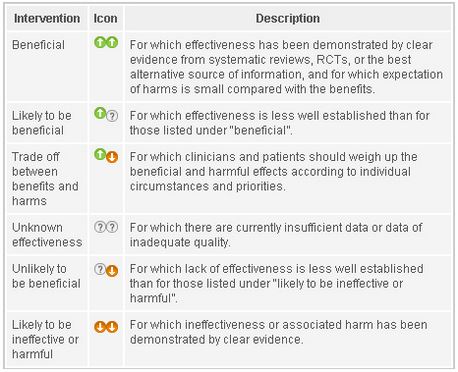 As with most things, Clinical Evidence has grown in size over time. Whilst being comprehensive is great, we think it is even more important that you can find relevant and useful evidence quickly and easily. Therefore, at our most recent round of scoping, we have focused all our systematic overviews on key clinical questions where a review of the evidence adds value. These can be broadly defined as five areas:
clinical uncertainties where new research may be urgently needed
emerging treatments
treatments your patients may frequently ask you about
areas in which treatments are still being used where they no longer should be
areas in which treatments have not yet been widely adopted, even though their effectiveness has been established.
Recent examples include our systematic overviews on fetal and stem cell-derived therapy for Parkinson disease, migraine headaches in children, and surgical/interventional radiological procedures for fibroids. This hopefully gives some idea of the range of evidence based practice we cover.
We are now updating faster with new and updated overviews published every week whilst maintaining the rigorous methods we are known for. If you haven't been to our website for a while please visit us. We are currently offering a free 14 day trial and your feedback would be greatly appreciated (ceeditor@bmj.com).
(Visited 403 times, 1 visits today)