7 Sep, 15 | by Sheree Bekker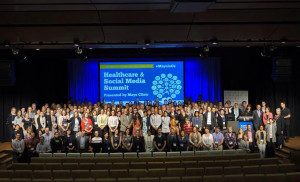 I recently attended the inaugral Mayo Clinic Social Media and Healthcare Summit, held in Brisbane, Australia. Billed to excite, educate and demonstrate the power of social media to healthcare providers – no matter where they work or what they do – this promised to be an innovative few days. I have already blogged about this Summit in my capacity as social media coordinator for the Australian Centre for Research into Injury in Sport and its Prevention (ACRISP) on my personal blog, which you can read here: #MayoInOz: Curate. Credible. Conversation.
Whilst social media can be perceived as seemingly-frivolous and as an add-on to the work that we do as researchers, I have chosen to do a separate blog post here – as I think that there was an aspect that would be of particular interest to the injury prevention community: that of our responsibility to share vital, potentially injury-preventing or life-saving information via social media. I have blogged on this platform in a light-hearted manner a few times now, and whilst my blog posts are always underpinned by rigorous research from this very journal, it is sometimes easy to forget the very real impact and real-life difference that a seemingly frivolous blog post or status update on social media can make.
This week marks world suicide prevention week. We will see important campaigns staged around the globe to open up this conversation. For example, in Australia, a simple campaign, R U OKAY Day, urges people to reach out to their friends, family, acquaintances, and wider networks to simply ask: 'Are you okay?'. I have been personally touched by the genuine and heartfelt ways in which friends of mine reach out and ask 'R U Okay?' on their social media platforms. Of course, we know that it may not be within our capacity to help, but it is a way to reach out and hold space for others who may be struggling, and in turn to then provide them with the resources or support structures that they may need.
Perhaps this will not be news to most of you reading this, but I learned at the Summit that Google has a similarly simple way of reaching out: if you type the word 'suicide' into Google, your first result will be a helpful resource based on your IP address. In other words, you get relevant, credible information irrespective of who or where you are. Yes – suicide prevention is incredibly complex, and a simple initiative such as this one by no means provides all the answers – nevertheless, it remains important.

One of the more innovative forms of simple social media messaging shared at the Summit was the Twitter-Storm: a 10-minute en masse blast of credible information to counteract a trend of dubious information on a current topic. This was done with much success for #MeaslesTruth (read more: Did #MeaslesTruth Create a New Form of Twitter Communication?). 

A further important initiative shared at the Summit is the Healthcare Hashtag Project – in which experts are working to standardize hashtags used for common healthcare issues. It is fascinating, and an excellent way in which to curate credible information under a conversation linked to a hashtag on Twitter.

Could we harness simple initiatives such as these for injury prevention messages?

Social media, and the internet as a whole, can be a wonderful resource. It is our job as injury prevention advocates to use it to amplify our voices to spread our message. To not engage becomes ethically problematic, especially if you have the information and resources at your fingertips. As researchers, it is important to remember that we do not always need to disseminate purely our most up-to-date research results, or even the most innovative interventions; sometimes our work life's work is bigger than that. Sometimes we need to advocate for the very heart that lies at our work: simple, credible information and resources that can make a difference in even one person's life.

Food for thought.

You can follow any responses to this entry through the