Dr Fiona McGowan, Cordinator Global Health and Quantified Self, School of Healthcare Studies, Hanze University of Applied Sciences, Netherlands
e-mail – f.e.mcgowan@pl.hanze.nl
Say Burgin's recent blog in the Times Higher Education (May 20th 2017) https://www.timeshighereducation.com/blog/uk-higher-education-has-shrugged-its-shoulders-race-and-gender-discrimination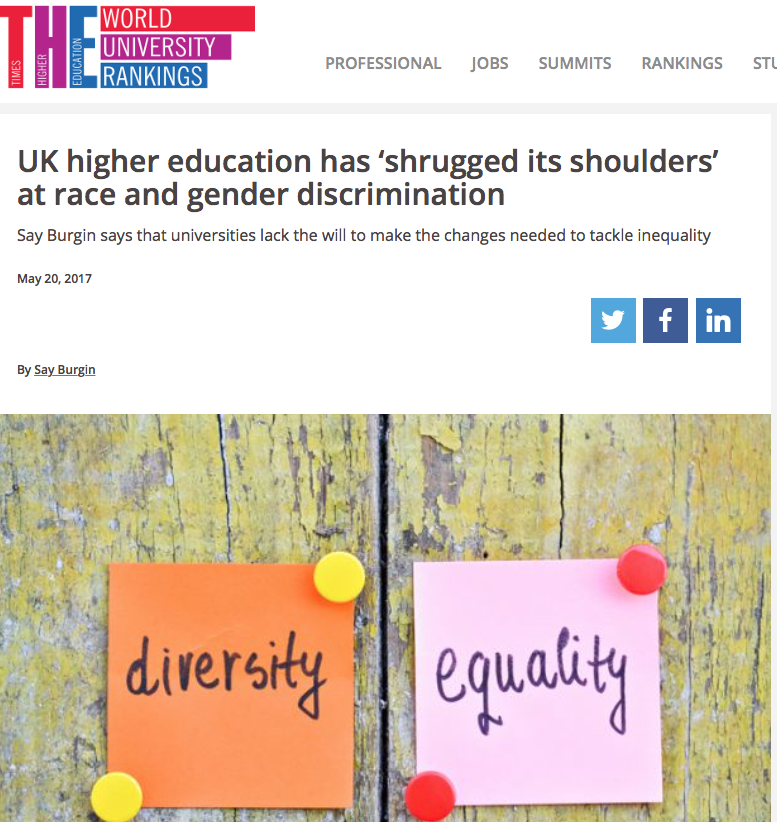 highlighted how both racial and gender discrimination remain rife within higher education and refers to the persistent and deeply embedded lack of will at managerial level for any real and meaningful change. Why?   "Because what an absence of will comes down to is a fierce protective impulse for a status quo that benefits those who are already in power – in universities or anywhere else". How true this is. And even more shocking is the extent that those in power will employ what appears as non-discriminatory terminology and policy to further enforce the position of white male privilege in academia. Figures show that the institutions gave their bosses above-average pay increases of up to 13 per cent in 2015-16.
http://www.dailymail.co.uk/news/article-4609168/University-fat-cat-pay-soars-student-numbers-fall.html
One such example is that of a post 1992 university in the Greater London area, which proudly promotes itself as being one of the "most diverse" institutions, promising students the experience of belonging to a "global family". Really? Scratch away the glossy veneer of inclusive language to reveal what lies beneath. A corporate plan that boasts a remit of 28,000 students from a 120 countries worldwide. Impressive? Certainly, especially considering the financial bounty attached to those recruitment figures. Yet….93% of those students are from the UK, with 52% from the immediate locality. Somehow these figures appear to have been" lost in translation" – how is this indicative of a global student body? Or how does this illustrate a cohort – again to quote their corporate jargon – as being "extraordinarily diverse".