26 Apr, 12 | by BMJ Group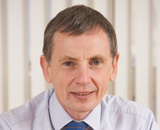 The Flying Doctors Service of East Africa sounds like an echo from a romantic, and bygone age. But its formation in 1957 was the first step in the creation of a major African health development organisation that has been given the World Federation of Public Health Associations' Institutional Award at the 13th World Congress of Public Health in Addis Ababa. The African Medical and Research Foundation (AMREF) has a great story to tell; of how it works in the remotest communities in Africa and works alongside those communities to build the knowledge and skills to transform their own health, how it provides training every year to more than 10,000 health professionals, and how it set up the international campaign "Stand Up for African Mothers" with its demand that no woman should die giving life. Oh, and it still provides a flying doctor and emergency evacuation service over much of Eastern and Central Africa.
One of the proud boasts of Ethiopians is that they were never colonised. Being Irish, I very much understand the importance they attach to that achievement. That isn't to say they didn't have to fight for their freedom. It took two bloody wars to defeat Italy's ambition of establishing itself as the colonial power in this part of Africa. The cause of Ethiopian freedom and the fight against Italian fascism in the 1930s attracted support from the left across Europe. One prominent supporter was Manchester-born Sylvia Pankhurst, the suffragette leader, who became a friend and supporter of Emperor Haile Selassie and in addition opposed the British Government's machinations. In 1956 she moved to live in Addis Ababa and received a state funeral when she died in 1960. She is buried in a very prominent spot in the grounds of Holy Trinity Cathedral (see photo). The least I could do was to go and pay my respects.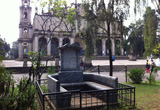 Sylvia would have approved of this congress being in her adopted home. She was a founder of the Socialist Workers' National Health Council and a speaker at the first annual dinner of the Socialist Medical Association in 1932 at which she stressed the need for an organised maternity service in Britain. Here in Addis Ababa the WHO Regional Director for Africa, Luis Sambo, reminded the congress of the contrast between Africa where the maternal death rate is 620 per 100k births, and Europe where the equivalent rate is 21. He pointed out that Africa is on track to fail to achieve the Millenium Development Goal of reducing maternal mortality by three quarters by 2015.

Sambo went on to draw attention to four new things that public health in Africa had to address. Firstly, adaptation to climate change, particularly in the Horn of Africa and the Sahel. Secondly, the rapid pace of urbanisation with all its attendant effects. Thirdly, the changes in wild animal-human interactions and the increased risk of new diseases. Finally, the emergence of further antibiotic resistance. Quite an agenda for African colleagues to take on in addition to their current priorities.

Gabriel Scally is a public health physician and holds visiting chairs at the University of the West of England and the University of Bristol.

You can follow any responses to this entry through the