By Nat Sharp and Nash Anderson @sportmednews
"If we could give every individual the right amount of nourishment and exercise, not too little and not too much, we would have found the safest way to health." – Hippocrates.
To ensure clean, fair and safe sport, anti-doping measures are essential.
ASADA (The Australian Sports Anti-Doping Authority) is an Australian Government statutory authority tasked to eliminate sports doping and to protect Australia's Sporting integrity. ASADA works with National Sporting Organisations to implement its policies, and has now created a free course to help educate the public. It is not only athletes who need to understand these policies. All support staff are required to not only understand, but to also follow anti-doping regulations. Support staff have a major role over not only what athletes are eating and drinking, but what supplements and medications are being taken.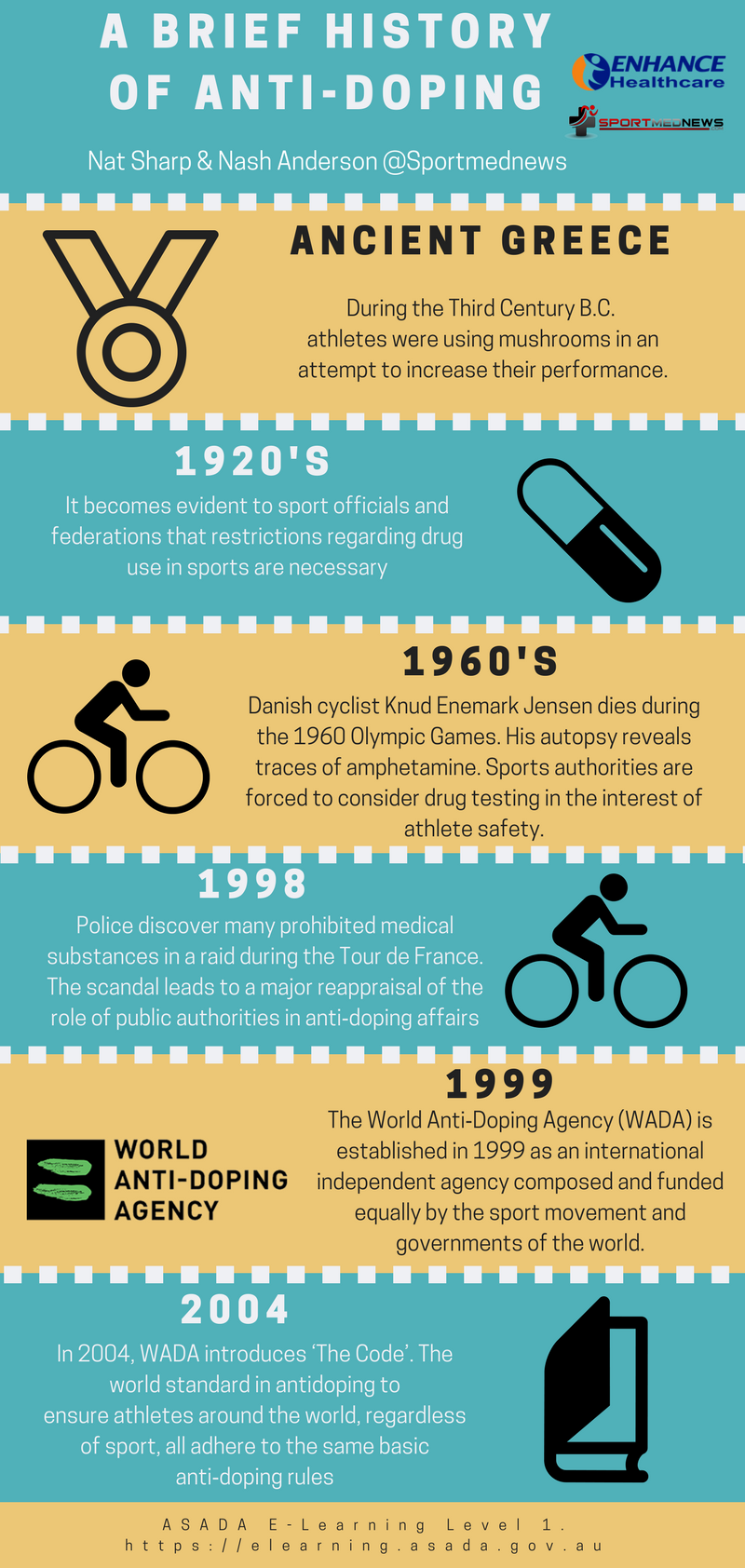 Doping infringements are very serious with ineligibility periods ranging from 1-4 years. A sanction means that you are banned from competing in any sport sanctioned by a National Federation, coaching, working in sport and even training with your team. As anti-doping guidelines are constantly changing, so it is imperative that all of the athlete's network are aware of not only what is allowed or prohibited, but also how to check these substances before the athlete uses them.
The ASADA Level 1 anti-doping course is a free e-learning initiative designed to educate athletes, support staff and the public. Although this course is for an Australian audience, the content is universal. The home page for the course is designed around the "Australian National Training Centre" with eight destinations to visit, representative of eight sections to complete. To participate in the course, the participant navigates through each of these destinations is a module where a different anti-doping topic is explored with information, videos, examples and revision questions. The final destination is the main stadium where a final quiz on all topics is to be completed. The course takes around 60-80 minutes to complete, and progress is saved automatically. You do not need to complete the course in one sitting.
The modules that are covered in the course include:
Anti-Doping Overview
Prohibited Substances and Methods – Learning about the prohibited list and how to ensure the medications you are taking are not prohibited
Therapeutic Use Exemptions
Supplements
Doping Control – Learning about what you can expect to encounter during the doping control process, and the rights and responsibilities of the athletes.
Intelligence and Investigation of anti-doping agencies
As feedback we found the course very practical. In some of the assessments we were required to use GlobalDro to check whether a substance was allowed to be used in different scenarios. For example;

 "You're a male sprinter competing in your first meet since having knee surgery three months ago. Your knee has been sore since your warm up and you consider taking something to relieve the pain before your event starts in an hour. You looked in your bag and found some left over Endone tablets that you used to relieve the pain after the knee surgery. Use GlobalDro – link opens in new window, to confirm whether you can take this substance."

This helps you to become practiced at using antidoping resources to solve real life problems.

Assessments are spread throughout the modules. In each section, there are a number of questions that you need to answer correctly in order to be able to progress to the final quiz.

We found that the questions tested knowledge of the content well.

In a world where athletes are the ones who are ultimately responsible for what drugs and supplements they are taking, they would benefit from completing this course. This course explains not only the steps involved for checking their substances, but their rights and responsibilities so that they can be fully prepared for any testing they will face during their career. It also emphasises the power of anti-doping community and real life consequences from inadvertent and deliberate doping to ensure they do not make foolhardy or innocent mistakes. Although this course is designed for an Australian audience, we would however recommend that anyone involved in sport complete this course. Sanctions for anti-doping violations are catastrophic for a career in sport.

ASADA have created a fantastic online course in the Level 1 module. To extend your understanding after completing the ASADA eLearning, further courses are offered including: Level 2 Anti-Doping Course, Ethics in Sports regarding match fixing, Medical Practitioner and Athlete Support Personnel course, as well as Integrity and Anti-doping, a module for secondary teachers. These modules are brief but helpful.

For more information visit:

https://elearning.asada.gov.au/

Recommended Follow Up Anti-Doping Resources

WADA Prohibited list

https://www.wada-ama.org/en/resources/science-medicine/prohibited-list-documents

Check your substances – Globaldro

http://www.globaldro.com/AU/search

ASADA

Report doping confidentially (Australian website

https://www.asada.gov.au/report-doping

Recommended follow up BJSM Resources

Gaehwiler, R. (2017). "Anti-doping and the physician's role: how do we overcome the challenges in elite sport?" BJSM Blogs. FREE Link here – http://blogs.bmj.com/bjsm/2017/02/03/anti-doping-physicians-role-overcome-challenges-elite-sport/

Stuart, M. Schneider, C.; Steinbach, K. (2016). "Meldonium use by athletes at the Baku 2015 European Games. Adding data to Ms Maria Sharapova's failed drug test case" BJSM Blogs. FREE Link here – http://blogs.bmj.com/bjsm/2016/03/08/meldonium-use-by-athletes-at-the-baku-2015-european-games-adding-data-to-ms-maria-sharapovas-failed-drug-test-case/

HP Dijkstra, HP; Van Dyk, N; Schumacher, YO (2015). "Can I tell you something? I'm doping…" BJSM Blogs. FREE Link here – http://blogs.bmj.com/bjsm/2015/11/16/can-i-tell-you-something-im-doping/

"The World Anti-Doping Agency, and blood passports, with Alan Vernec" (2013).  BJSM podcasts. FREE Link here – https://soundcloud.com/bmjpodcasts/the-world-anti-doping-agency

******************

Nash Anderson has a special interest in sideline care and the SEM community. Nash has created sportmednews.com, an open access health and sports medicine resource for clinicians and the public. He also assists in the management of Social Media for Sports Chiropractic Australia. You can follow him on Twitter (@sportmednews).

A former Australian representative in both Beach and Indoor Volleyball, Nat Sharp has a special interest in sideline care, volleyball and sports chiropractic. She has recently returned from working as medical director of the Beach Volleyball World Tour in Sydney. You can't follow her on Twitter unfortunately! Nash and Nat are Chiropractors at Enhance Healthcare, a multidisciplinary practice in Mitchell​, Canberra.

You can follow any responses to this entry through the